Versailles Season Two: La première….
Yesterday, March 27, the day had finally arrived. Versailles season two started. Did I watch it? Oh, oui. Canal + spoiled us with two new episodes yesterday, but do not worry… I shan't spoil you too much here. Firstly because my French is not good enough and secondly because I plan on doing the proper reviews when I get the dvd. One review usually takes me a whole afternoon to do and involves a lot of re-watching of scenes, scribbling, looking things up, and so on. I shall just give you a first impression now….
It was glorious. We start about four years later. Versailles has changed. Our beloved Sun King has established himself as such and everything looks a little gloomy at first glance. You probably all want to know what happened to Rohan and the Dauphin in the mean while…. it appears both were missing for said period of time…. but do not fret, the Dauphin is rescued and Rohan captured in the first episode of this new season. The savior is not a shiny knight in a silver suit of armor… 'tis Fabien Marshal. I won't go on about how that whole thing was history wise, because I shall save it for the proper reviews.
Talking of knights… everyone's favourite Chevalier is missing. He's not kidnapped (Chevalier-napped? lol), but in exile. Again, do not fret. He is back by episode two and looks delicious as usual. I know some of you were a little concerned about his new wig… it does not look as bad in action as on some of the pictures we saw. It appears he was in Italy, and he is glad to have returned to civilisation, bringing with him some fashion advise… and something else located in his Netherlands.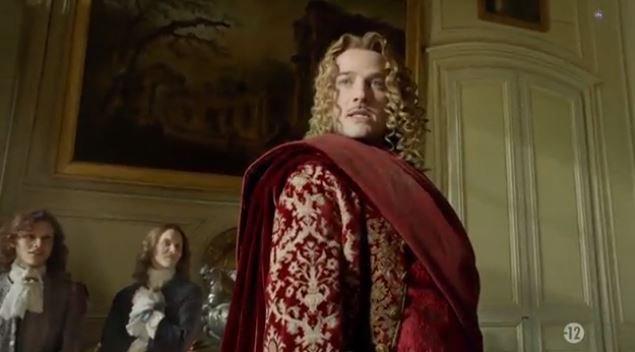 The Netherlands, not those of the Chevalier, but the actual ones, play a role as well. It looks like we are about to war.
What about Monsieur? He's a bit in a gloomy mood and has retired to Saint Cloud. Interestingly, the chateau de Vaux-le-Vicomte, former home of Nicolas Fouquet, serves as set for Saint Cloud. They have filmed a lot in Vaux already. The great salon of Vaux, for example, is the one we often see as a salon of Versailles. There were also some Vaux garden shots and now one of the chateau itself as Saint Cloud. Monsieur is a little annoyed that everyone ran off to Versailles, including an actor. It's one of the new faces and I must admit I did not catch his name. He looks to be some sort of Moliére.
And *gaaaasps* Louis actually allowed Madame de Montespan to sit in an arm-chair. What a breech of etiquette. One I see myself going on about for a bit in the reviews. Said arm-chairs are later destroyed by a raging Monsieur. Not because he shares my outrage, but because Louis nicked his Moliére-that-is-not-Moliére.
Madame de Montespan is obviously pregnant and, together with her royal lover and the Queen, involved in choosing a new bride for Philippe. This new bride is nicknamed Liselotte and German. We see her in episode two and….. gosh, I do love her already.
Another new face is that of Madame Agathe. She is a buddy of la Montespan and appears to be some sort of fortune-teller/witch. The king doesn't like what she has to say. I presume she has the role that a certain la Voisin had in history. Poison plays a big role in the first two episodes already. Someone has been poisoned and Marshal is investigating.
What else? Le Duc de Mop, aka Cassel, rises to new heights. Philippe returns to Versailles and can be observed wearing a rather dashing suit. I want it. The suit, I mean. Since Alex probably won't read this, I will be so bold to say that he can only be described as utterly yummy. Last but not least… two major characters of season one will lose their lives in the first two episodes. One is Rohan, the other comes a bit as a shock.
That's it for now. More in the actual reviews. When those will be scribbled, I can not say. Hopefully soon. If you want some more Versailles in the meanwhile, consider to join our lovely group on Facebook or give myself or the Versailles account a follow on Twitter.